| | |
| --- | --- |
| | |
London, we are in you.
It was one of the most comfortable international flights I've ever been on, in coach anyway. The plane was less than half full; we each had our own aisle to stretch out in. So we actually got a couple hours of sleep.
Unfortunately, I cannot show you the picture I took in the airport, of the successfully-transported Large Package…because for some reason my internationally-enabled iPhone won't connect to any wireless, and I'm too jetlagged to figure it out right now. So here's one taken from Mark's phone here in the flat: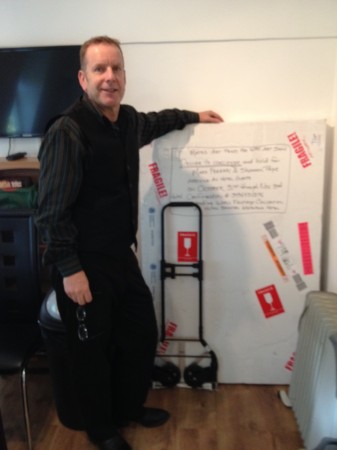 Oh and also I forgot to bring the power cord for my computer. Doh. (I did remember the adapter, of course!) Well we can deal with that in a day or two.
Right now we're going to find a bite to eat (and maybe some nice English beer!) and try to stay up till it gets dark, or as long as possible, anyway. It's 3pm and we're…kind of stupid.
But we're here! And so is the art! I'm calling that a win.

Originally published at Shannon Page. You can comment here or there.