| | |
| --- | --- |
| | |
Probably it will be thus until the wedding. But: here, I have a moment, I will write something to the internets.
Maybe I will even finish it!
So as it turns out, it is perhaps cheaper but certainly less fraught to BUY several hundred wine glasses than it is to RENT them.
That is, if you have a certain Giant Swedish Warehouse Store in your town.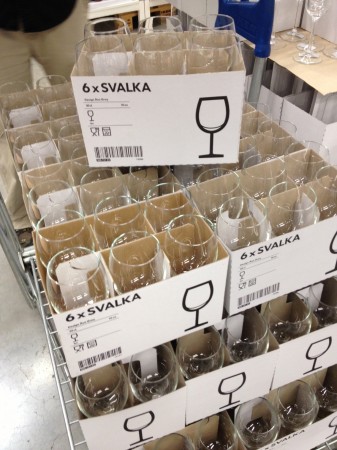 Now the car is full of Svalka, which is kind of inconvenient, though we went out yesterday and bought a Yakima (no relation to Svalka) box to put on top of the car, because we also have to carry a kajillion paper plates and plastic silverwares and wedding programs and decoration stuff and I don't even know what all else, not to mention all our garb (I've begun assembling a Bride Box with all my various fripperies and foofy stuff), oh and the rest of what we'll need for a week and a half away.
(And, can I just ask: WTF, Ikea, with the super-flimsy Svalka boxes, that go halfway up the glasses and are open on top? We are going to have to repackage ALL those glasses, just to get them anywhere and arrive with anything but shards of glass-rubble.)
And while I am expressing frustration…hmm, not sure how to phrase this exactly, but…hmm. Perhaps it is our fault. Perhaps we should have sprung for actual physical RSVP cards (and their attendant postage) in the invitations, rather than relying on the website. But. It seems to me, and perhaps I am being unreasonable here, but, just a thought: it's kind of nice to know if people are, you know, intending on coming to a wedding, if they're invited to it. Or if they're intending on not coming. Either answer is entirely acceptable! We totally understand either way! But…not getting an answer at all…and having to hunt up responses (not one, not two, but three and four and five emails and phone calls in some cases)*…all I'm saying is, this is time we could be spending on, I don't know, other things.
Like writing our vows and remembering coffee cups and chasing down the rental folks (who never respond) and designing and printing programs and figuring out how to make the wedding dress not-see-through** and buying more plastic place settings and finding bartenders and finding an appropriate reading for the ceremony and planning the Sunday brunch and oh yes the rehearsal dinner (and buying food for that too) and working out all the music with the DJ and figuring out what signage is needed and taking Mark's suit to the cleaners (oh, gotta remember to pick it up too) and weren't we going to practice dancing? and ordering beer which means I gotta talk to Youngest Brother first and um gifts for the wedding party and and and and and
Okay, too busy to blog. I knew it.

_________________
*Because we do actually sort of Need to Know. Because the caterer is charging us a Not Inconsiderable Amount Per Actual Human Being Person, and needs to know in the next few days what that Number of Human Being Persons is, because she will be preparing food for That Many Persons, and if more people sort of show up unexpectedly, there will be not enough food; and similarly if people do not show up there will be wasted food and money; and come ON, people, really??
**The underwear situation here: seriously. Epic. I will be able to host a Smallclothes Convention just from this one outfit alone. The things I have learned!***
***Dimmers. Really.
Originally published at Shannon Page. You can comment here or there.