| | |
| --- | --- |
| | |
Well so I am not diving back into Hobgoblin after all, as it turns out…Mark has been reading the latest version of The Queen and The Tower, in preparation for my anticipated Official Editorial Edits from the Editor in the next few weeks, and he's found some world-building issues that really should be ironed out, so that not only will this book be as fabulous as possible, but the next three books will have a more thoroughly solid structure upon which to be built!*
Anyway he is going to drive down here Thursday afternoon, so that we can go to Miss H.'s deck-warming party that evening, and then we can spend all of Friday on a Nightcraft World Conference. (I have actually marked it off in my calendar with those very words.) So meanwhile, I'm going to reread
TQ&TT
so that it's fresh in my mind. Sorry,
Hobgoblin
. Someday…
* * *
In other news, and speaking of new decks in the neighborhood: my deck needs replacing, I fear. When I bought the house, the building inspector said, THAT DECK IS HAZARDOUS AND DEADLY YOU MUST TEAR IT DOWN IMMEDIATELY, but the two contractors I consulted said, Eh, it's fine, you've got a few years.
Well now it's been a few years, and some of the boards are pretty saggy and mushy, and some of the undercarriage is looking warped. But I think a good sign you need a new deck is when plants start growing from the wood: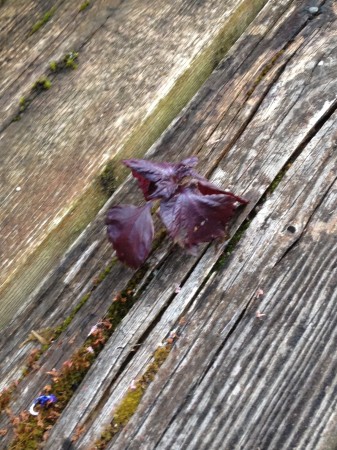 That's purple shiso, that reseeded from a pot last year. A couple inches tall already, and going strong.
So yeah, I've called the contractor; he should come out in the next few days and give me a quote.
* * *
In other-other news, I'm having a friend over for dinner tomorrow night, so tonight I opened the Witchnest Test Kitchen and tried out an invented recipe: Peppered Shrimp in Black Bean Sauce with Onions and Sweet Peppers.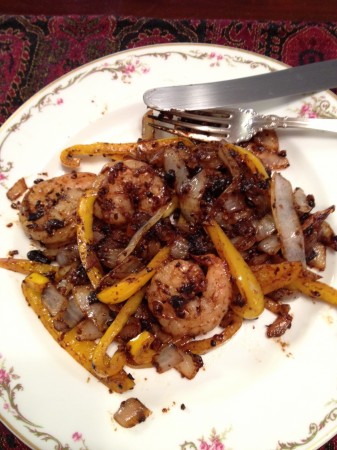 Yummy! Except I used too much black bean sauce (SALTY), and I'd slice the onions thinner, to match the peppers. Other than that, a win.
_____________
*And I keep rereading that sentence to see how I could phrase it more felicitously, but, alas, there you go. Blame the wine.
Originally published at Shannon Page. You can comment here or there.